Six Flags Super Discounts | Get ready for family fun this summer!
Click here to download details and order form
Forget trying to figure out your family getaway! Forget waiting in line at the ticket window! Save over 50% off Main Gate admission price.
Sullivan's Foods is offering employees discounted tickets to Six Flags!
Details:
Price includes unlimited use of available rides and entrance to shows
Tickets are good for use during the month of July 2018 only

Includes use during the 4th Fest (fireworks and July themed characters)
Includes use during Mardi Gras Fest (parade and themed characters)

Meal Deal tickets available at $14.75 ($20.50 value)

Food is not allowed to be brought into the venue
Alternative to food purchases-bring your own and eat in the car

Parking not included | $26.00 estitimate
How to sign up:
Complete the ticket reservation form provide in link above

Click button below to print, complete, and submit to Annie Leitzen at our Corporate Office for processing

Sullivan's will allow you to pay for your tickets only (does not include parking or food) over 3 pay periods
Associate Discount Program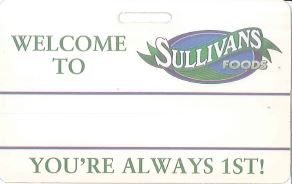 Sullivan's Foods is pleased to be able to offer to all of our associates a beneficial Employee Benefit and Associate Discount Card. Our goal is to provide the Best Retail experience possible. In doing so, we need our Employee's and Associate's strong support, not only in taking care of our Guests, but also with giving your store a chance to earn your business. Hopefully you will see what a benefit this can be, not only to you and your store in the week to week operations, but also to you, in the form of a discount refund issued each year in December, to active associates who made qualifying purchases using their Discount Card.
By presenting your card when you make a purchase, you will earn points representing 5% of each qualified purchase. These points will accumulate, and 5% of your qualified purchases over the course of the year will be issued in form of a gift card/or check. The refund will be issued to active associates only the first full pay period in December.
As an example for what you could earn, the typical family spends $100.00/week, so by using the Associate Discount Card those purchases will earn $260.00 in one year's time!
It is very important that you adhere to all of the rules posted for your New Associate Discount Card. Please read very carefully!
Per policy you are not permitted to ring up your own purchases.
You must present your Associate discount Card to be credited.
The cashier will scan your card.
The discount card must be presented at the time of the purchase. If you missed using your card at the time of the purchases you are NOT eligible for the discount on that purchase.
This is for you "YOUR HOUSEHOLD'S PURCHASES ONLY" (Example if you do not live with your mother or aunt etc., their purchases do not qualify)
Employee must be PRESENT at time of purchase. No lending of your card.
You are NOT ALLOWED to make purchases for anyone other than yourself or members of your immediate family household.
Discount Points will not be earned on Gas purchases, Service Desk items including tobacco and conveniences or Ace Rentals.
The company reserves the right to restrict use on other specific items or with other discounts such as Truck Load Meat Sale Days.
Only one card will be issued to any associate, but if lost, report this to Management and a 2nd card will be issued. Your card purchase will be combined from your first card. However, purchases made without your card are NOT eligible for the discount.
If you find a card please turn it into the store manager immediately.
Inappropriate use (such as lending of your card) is subject to discipline which may include termination, and elimination of your ability to participate in the employee discount program.
Your Discount card must be returned upon termination and all accumulated points are forfeited.
Sullivan's Foods reserves the right to alter/evaluate and terminate the program at any time.